http://www.amazon.com/dp/B00LOWZ63Y #kindleunlimited #zombies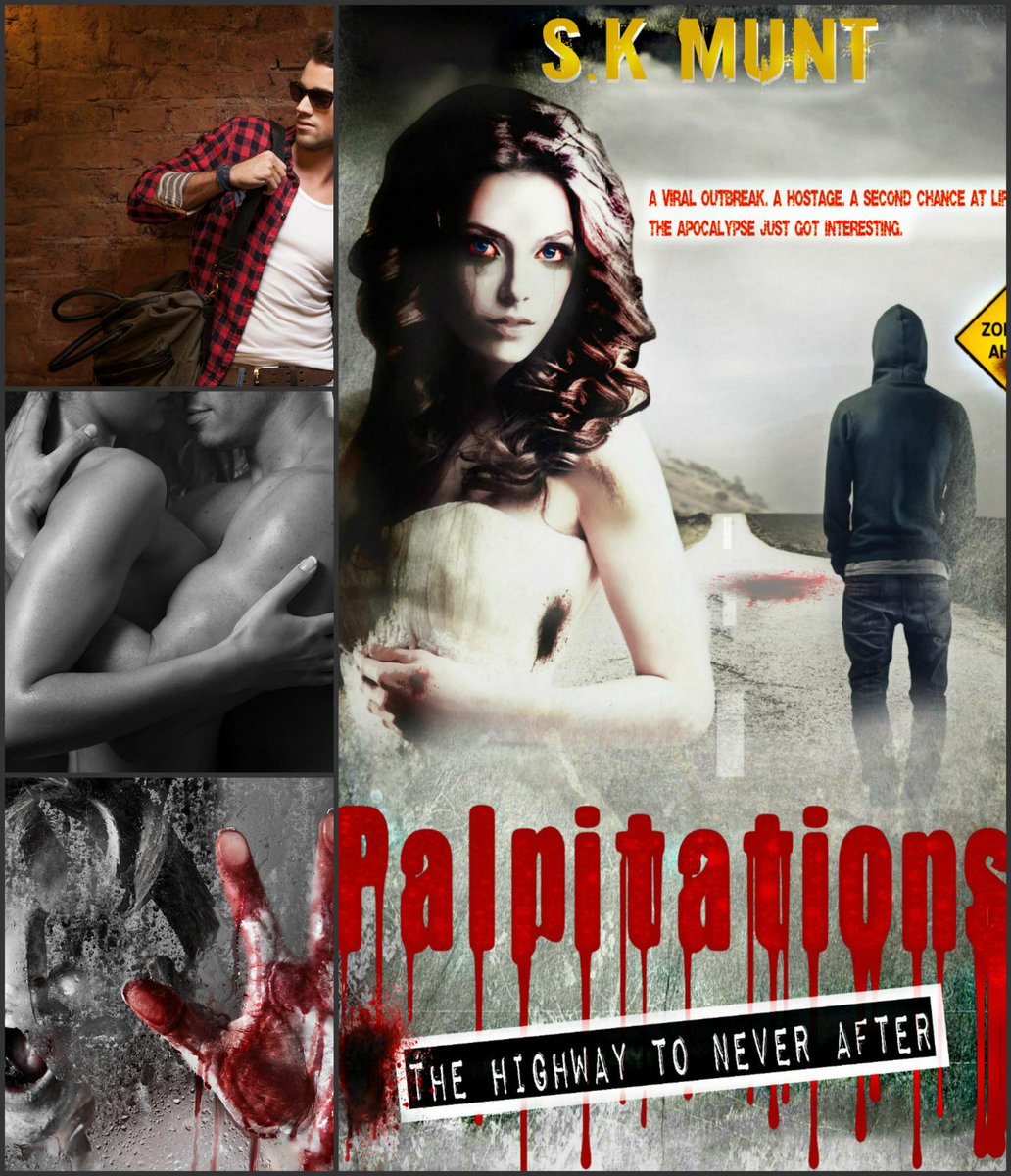 [book:Palpitations|22654840]
Someone who was still in there.
Thinking quickly, Charlotte shuffled back to her driver's door and turning the key once to get the coil working, flicked on her headlights after. Like a diamond in sunlight, the interior of the shop lit up brilliantly; so brilliantly that there was no mistaking the flurry of movement she saw behind the counter. Charlotte smiled grimly, and then twisted her headlights again, proud of how handy her high beams were proving to be when suddenly, a thin shadow leapt up from behind the counter and began waving its arms frantically. Though the action was silent, the point was clear:
'Woman are you fucking crazy turn off your DAMN LIGHTS!'
But Charlotte flicked them instead, and when the boy vanished again she flicked them once more. When he did not re-emerge she sighed, leaned onto her steering wheel and blasted the centre with her horn. The sound was so excruciatingly loud in the evening air that Charlotte shuddered, taking her hand off it as soon as she felt she'd made her point and looking around anxiously, scanning the sidewalks, not completely oblivious to the sound of a scream in the far distance and even worse, a disembodied moan floating through the air like the end of a yawn from her left. It wasn't so close that it represented a direct threat, but her skin blossomed with goose bumps all the same.
I can't stand here all night waiting for this guy to do the right thing, can I? Think woman, think!
Charlotte turned back to the shop, wanting to scream or beg the boy inside to turn the pumps on- to personalize her precarious predicament and possibly evoke empathy within him or a sense of responsibility- but she couldn't get her drama on without making a racket, and she had a funny feeling that the sounds of a woman in distress would be like zombie catnip.
Besides, what reason did the attendant have to turn the pumps on for her? He didn't know her and for all he knew, her appearance probably made her look like a time bomb waiting to happen, because she fit the 'danger' age group perfectly. Survival required a certain degree of selfishness, as she'd just displayed to the hoodie guy back down the road, and the attendant was safely barricaded inside a shop packed with all the supplies one could need with no reason to see how her 'Come eat me' behaviour was a threat to anyone but herself so long as he remained hidden in the dark.
Nope. Polite Charlotte isn't working for me. Wonder if the mask is a turn-off? I bet Sophia would be pumping gas by now!
The damsel thing hadn't worked so it was clear to Charlotte that she'd have to try acting menacing instead, which was going to be a tricky part to play with a headful of curlers and sparkly lettering across her breasts. She swiveled her gaze to the gun on her seat and she wondered if she could convince the boy that so long as she remained in danger, he did too. But the idea of waving the gun around, of threatening him and getting caught on CCTV in her get-up as the purple-faced apocalypse tyrant made her feel ill. But she'd still rather be tagged as a burglar, than by her toe.
Bribery? Worth a shot yeah?
Charlotte reached back into her car and pulled a crisp, one hundred dollar note from an envelope in her glove compartment, feeling a twinge of guilt as she realised she'd had that cash handy to pay Cadence with, back at the salon. Isaac, always more prepared than a boy-scout with OCD, had given her the labeled envelope that afternoon back at the clinic while whispering that they were paying Cadence off the books to help her out of a rough month. The recollection of his kindness, and the sight of his angular handwriting on the front of the envelope made her heart skip another beat. He really was too, too good a man for the likes of her.
Isaac would never bully a service station attendant into doing his bidding because he would have had a full fuel tank to begin with!
Pushing that thought aside, Charlotte made a big show of waving around the one hundred dollar bill, and then lifted the pump lever next to the one she intended to use, placing the note in the hollow behind it and then replacing the nozzle, trapping the money there. Then, she tapped on the fuel pump and waited expectantly.
Come on, come on, come on… ! Please please please?
Another moan sounded, and down the street, there was a yelp. Charlotte's arms had been crossed in a: 'Your move' sort of stance but the sound of the approaching creature had her digging her nails into the flesh of her arms. When another ten seconds passed, and the moan resonated in the air again; this time much closer, Charlotte lost her patience along with any courage she'd managed to scrape together and store in her spine. Pissed off and terrified, she got back into her car, flicked the key all the way to start the ignition and then slammed her foot down on the accelerator as she snapped the door shut, revving the car as hard as she could and hoping that it wouldn't expose her bluff by spluttering its last.
She saw the shadow of the boy straighten, saw him step slightly closer to the window, slowly raising his hands as if to say: 'Whoa…let's not do anything stupid now!' But Charlotte merely smiled, pleased to know that she still had his attention. She released the parking brake, shoved the gearstick into drive and then lurched forward, aiming her car right at the entrance doors of the service station and thinking that if this didn't work, the cowardly teenage boy might be the last person she ever saw alive through human eyes and if he didn't help her, she'd relish eating him first.